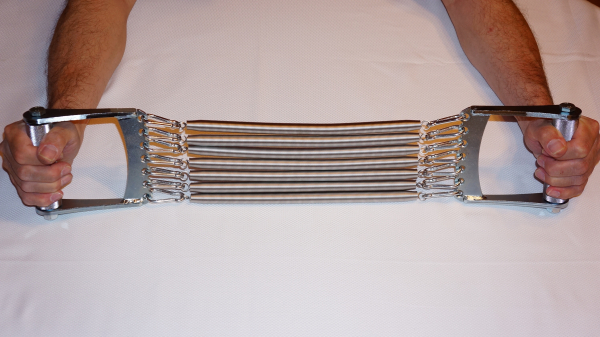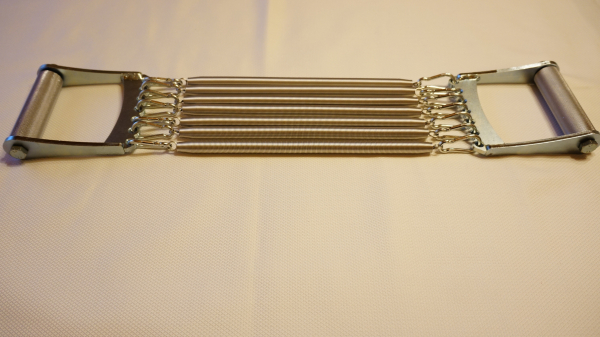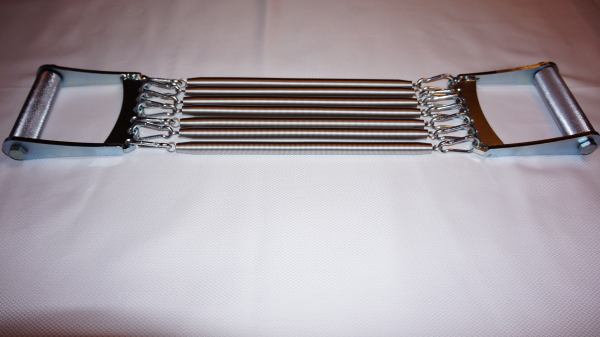 Many people has asked me for a high quality heavy duty chest expander – here it is:
This expander is unlike other expanders completely made from steel. The weight of the expander is 3 kg (6.6 lbs) and and you can feel the quality of the product once you hold it in your hand.
The handles are knurled for a secure grip and the handle diameter is 30 mm. When you pull the expander in front of your chest, the handles will spin so that you can concentrate 100 % on the target muscles. The expander can hold up to 7 springs which is more than enough even for very strong people.
The springs are made of stainless steel and the handles are chromium plated.
This product targets the upper back muscles and the rear delts.
Regular expander training can be used as injury prevention for the shoulders because you train the rear delts which are often under developed in most people.
Eccellente estensore a molle.
Erano anni che tentavo di trovarne uno e finalmente l'ho trovato.
E' estremamente robusto e la zigrinatura sulle maniglie rende la presa ben salda e non scivolosa come i classici estensori con le maniglie in plastica o in legno.
Per ora sto iniziando a provare le 6 molle e spero in qualche mese di estendere le 7 molle sulle maniglie rende la presa ben salda e non scivolosa come i classici estensori con le maniglie in plastica o in legno.
Per ora sto iniziando a provare le 6 molle e spero in qualche mese di estendere le 7 molle go to post

Großartiger Expander... So stabil und durchdacht (gelagerte Griffe) gebaut! Ich trainiere wirklich schon lange und würde mich als stark bis sehr stark bezeichnen aber das Teil fordert einen wirklich. Aber alles fühlt sich so angenehm an, da es bei den meisten Übungen auch der Kraftkurve entspricht. Dh. wo man am schwächsten ist, ist es am leichtesten und gegen Ende der Bewegung wird es richtig knackig... Hätte nicht gedacht das man nach so langer Zeit am Eisen nochmal so einen Unterschied sehen und spüren kann... Obwohl ich nie wirklich gerne gecurlt habe, find ich selbst diese Übung mit dem Expander richtig geil. Für ernsthaftes Hometraining oder aber auch als Assistenz für die großen Verbunübungen wirklich genial!

bezeichnen aber das Teil fordert einen wirklich. Aber alles fühlt sich so angenehm an, da es bei den meisten Übungen auch der Kraftkurve entspricht. Dh. wo man am schwächsten ist, ist es am leichtesten und gegen Ende der Bewegung wird es richtig knackig... Hätte nicht gedacht das man nach so langer Zeit am Eisen nochmal so einen Unterschied sehen und spüren kann... Obwohl ich nie wirklich gerne gecurlt habe, find ich selbst diese Übung mit dem Expander richtig geil. Für ernsthaftes Hometraining oder aber auch als Assistenz für die großen Verbunübungen wirklich genial!

go to post

Man, Baraban makes great equipment. I also have the crusher, and this stuff feels so solid. This is not a cheap expander, it feels strong. Basically it's a serious upgrade to what's out there. I'd like to see some longer springs as an option to do military presses (one handle in foot, etc.), so hopefully he continues to expand.

it's a serious upgrade to what's out there. I'd like to see some longer springs as an option to do military presses (one handle in foot, etc.), so hopefully he continues to expand.

go to post
You must be logged in to submit a review. Login
Customers who bought this product bought also the following products: