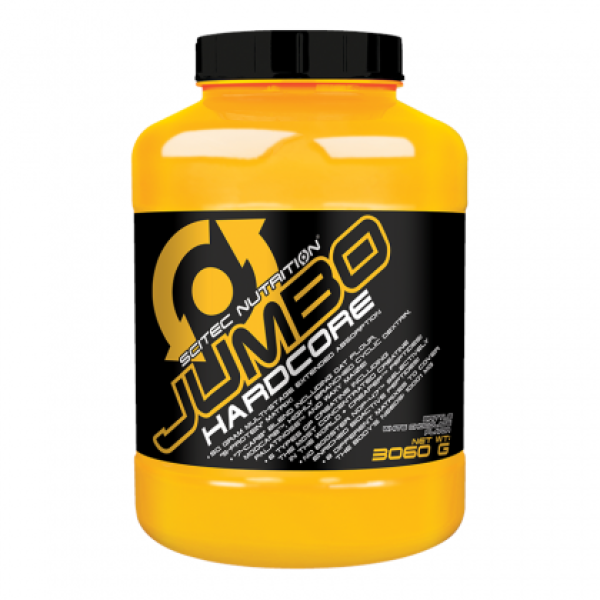 Scitec Nutriton - Jumbo Hardcore 3060g

Unsere legendäre JUMBO Linie zum Muskelaufbau wurde weiterentwickelt! Diese waren bereits Produkte auf professioneller Ebene. JUMBO bedeutete "GROSS!" JUMBO bedeutete "STARK!", aber unsere neueste JUMBO HARDCORE Version bringt Verbesserung in jedem einzelnen Detail!

JUMBO wurde ursprünglich entwickelt um einen Schritt weiter zu sein als mit den einfachen Gainern, die auf Dextrose und Maltodextrin basieren und noch dazu enthält es einen großartigen Kalorienanteil und signifikante Mengen von zusätzlichen Wirkstoffen. Unsere neue "7–CARB" Mischung ist sogar noch komplexer: sie beinhaltet Hafermehl, das verzweigtkettigte ModCarb™ (ausHaferkleie, organische Quinoa, organisches Amaranth, organisches Buchweizen, organische Hirse), das verzweigtkettigte Cyclodextrin, die langanhaltend energieliefernde Palatinose™, so wie die Waxy Maize. Es ist ebenfalls sehr wichtig, dass das Produkt nicht voll von einfachen Zuckern ist!
Die vorigen JUMBO Formeln beinhalteten nur eine Proteinquelle (Molke), aber JUMBO HARDCORE ist gekennzeichnet durch eine mehrstufige, ausgedehnte Absorption "5-PROTEIN" MATRIX mit instantisiertem Molkenprotein-Isolat, Micellar Casein, hydrolisierten Rinderprotein Peptiden, Reisprotein neben der mikrogefilterten Molkenprotein-Basis. Das ist eine intakte Protein-Matrix von 50 g netto. Alle anderen hinzugefügten Aminosäuren, die unter den Nährwerten angegeben sind, sind wertvolle, zusätzliche Aminos über dieser Proteinmenge hinaus!

Wir haben 8 verschiedene Matrizen in JUMBO HARDCORE hinzugefügt um die verschiedenen Körperbedürfnisse zu decken mit insgesamt 10000 Milligramm. Eine von diesen Matrizen beinhaltet 6 Creatin-Sorten, eingeschlossen das konzentrierteste Creatin der Welt, sowie die patentierten Insulin stimulierenden CreaPep™ Peptide, die auch die Verwertung des Creatins steigern. Zwei Amino-Matrizen liefern schnell agierende wichtige Aminosäuren, einige in mikronisierter Form: die AMINO SELECT MATRIX beinhaltet Gramms von mikronisierten Glutamin, Taurin, Alanin, Phenylalanin, Lysin, Ornithin und AKG, sowie den BCAA XPRESS KOMPLEX, der zusätzliches mikronisiertes Leucin, Isoleucin, Valin beinhaltet!

Wenn wir die Aminosäuren-Komposition von einer Portion (eingeschlossen des Aminosäuren-Gehaltes der Proteine) zusammenzählen, dann beinhaltet JUMBO HARDCORE 5670 mg Leucin, 2580 mg Isoleucin, 2520 mg Valin, 8250 mg Glutamin und 2390 mg Arginin in einer Portion von 153 g! Die HEMO-NO MATRIX besteht aus verschiedenen Arginin-Sorten (mikronisiertes Arginin, Arginin Alpha-Ketoglutarat) und den auf ähnliche Weise Stickoxid (NO) fördernden NOP-47™ mit selektiv angereicherten bioaktiven Peptiden!
Die PERFORMANCE BOOSTER MATRIX liefert Betain, Beta-Alanin und L-Carnitin um dich im Training mit weiteren Waffen auszurüsten. Die RECOVERY MATRIX hilft beim Handhaben von negativen Prozessen nach dem Training. Vitamin C unterstützt die normale Funktion des Immunsystems während und nach intensiven Übungen. Dieser vorteilhafte Effekt wird mit einer zusätzlichen Einnahme von 200 mg täglich (erhalten in 1 Portion) neben der empfohlenen Tagesdosis an Vitamin C erreicht!*

Letztendlich beinhalten die übrig gebliebenen Matrixen eine zusätzliche Unterstützung durch Mikronährstoffe und Pflanzenextrakte, eingeschlossen Vitamin D, das zur normalen Funktion des Immunsystems und zur optimalen Muskelfunktion beiträgt und auch zur Erhaltung der normalen Knochen, Zähnen und zur normalen Absorption, Verwertung von Calcium und Phosphor!* Der Mineralgehalt von JUMBO HARDCORE trägt zur normalen Muskelfunktion und zur normalen Funktion des Nervensystems, dem Energiestoffwechsel, der Neurotransmission und der Erhaltung der normalen Knochen und Zähne bei*. Mit 46 hochwertigen und effektiv aktiven Wirkstoffen ist JUMBO HARDCORE massiv und kann dir helfen selbst auch wirklich massiv zu werden! Diese vielseitige Formel ist angemessen für jeden der die Dosierung anpassen möchte.

*Diese Aussagen wurden von der Europäischen Behörde für Lebensmittelsicherheit (EFSA) wissenschaftlich nachgewiesen und von der Europäischen Kommission (EC) autorisiert.
Lieferzeit
2-3 Tage
Verzehrempfehlung
Lösen Sie 1 Portion (153 g) in 500 ml Wasser auf. Nehmen Sie täglich 1 Portion vorzugsweise direkt nach dem Training zu sich.
Nährwerttabelle

Durchschnittliche Nährwerte

Pro 100g

Pro Portion (153g) in Wasser

Energie

349Kcal

531Kcal

Fett

5.7g

3.7g

- davon gesättigte Fettsäuren

2.5g

1.6g

Kohlenhydrate

46g

70g

- davon Zucker

8.5g

13g

Eiweiß

33g

50g

Salz

0.46g

0.30g

Calcium

205mg

134mg

Kalium

365mg

239mg

Performance Booster Matrix ( 


Beta-Alanin (200 mg), Betain HCl (100 mg), L-Carnitin L-Tartrat (50 mg) )

350mg

228.8mg

Mikronährstoff Support Matrix ( 


Alpha Liponsäure (10 mg), Vitamin D (1.2 μg) )

10mg

6.54g

"7-CARB" MISCHUNG 
( 


Maltodextrin, Hafermehl, Dextrose, Palatinose™(Isomaltulose1), Wachsmaisstarke, verzweigtkettiges Cyclic Dextrin, ModCarb™ glutenfreie Getreidemischung (Hafer, Amaranth, Buchweizen, Hirse, Quinoa) ) 

69.4g

45.35g

Multi-Komponenten Creatin-Matrix ( 


davon Creatin: 5000 mg




Konzentriertes Creatin (Creatin Anhydrous), MicronTec mikronisiertes Creatinmonohydrat, Creatinmonohydrat, CreaPep™ Peptide,Kre-Alkalyn (gepuffertes Creatinmonohydrat), Creatin Citrat, Creatin Pyruvat ) 

5446mg

3491mg

Amino Select Matrix ( 


Taurin (1000 mg), Mikronisiertes L-Glutamin (800 mg), L-Alanin(100mg), L-Phenylalanin (100 mg), L-Lysin HCl (100 mg), L-Ornithin HCl (50 mg), Calcium Alpha-Ketoglutarat (20 mg) ) 

2170mg

1418mg

BCAA XPRESS Matrix ( 


Mikronisiertes L-Leucin (500 mg), mikronisiertes L-Isoleucin (250 mg),




mikronisiertes L-Valin (250 mg) ) 

1000mg

653mg

HEMO-NO MATRIX ( 


Mikronisiertes L-Arginin Base (500 mg), L-Arginin Alpha-Ketoglutarat 2:1 (100 mg), NOP 47™ Bioaktive Peptide (100 mg) ) 

700mg

456mg

Zutaten und Inhaltsstoffe:Krokant-weißer-Schoko-Geschmack: Molkenprotein-Konzentrat (aus Milch), Maltodextrin, Hafermehl (Gluten), Aromen, Brittle Pulver (Zucker, Glucosesirup, pflanzliche Fette (Palme),Vollmilchpulver, Aroma, Emulgator: Sojalecithin), weißes Schokoladenpulver (Zucker, Kakaobutter (33,4%),Vollmilchpulver), Dextrose, Hydrolisiertes Rinderprotein, Creatin Anhydrous, MicronTec mikronisiertes Creatin Monohydrat, Reisprotein, Palatinose™ Isomaltulose, Taurin, Wachsmaisstärke, L-Glutamin, verzweigtkettiges Cyclo Dextrin, mikronisierte L-Arginin Base, mikronisiertes L-Leucin, Micellar Casein Konzentrat (aus Milch),ModCarb™ glutenfreie Getreidemischung (Hafer, Amaranth, Buchweizen, Hirse, Quinoa), instantisiertes Molkenprotein Isolat (aus Milch, Emulgator: Sojalecithin), mikronisiertes L-Isoleucin, mikronisiertes L-Valin, Verdickungsmittel (Xanthan Gum), Beta-Alanin, L-Ascorbinsäure, Süßungsmittel Acesulfam-K und Sucralose, Betaine HCl, Creapep [partiell hydrolisiertes Molkenprotein, Micellar Casein (aus Milch, Emulgator:Sojalecithin)], Creatin Monohydrat, Glycin, L-Alanin, L-Arginin Alpha-Ketoglutarat 2:1, L-Lysin HCl, L-Phenylalanin, NOP-47 Milchprotein Hydrolyzat, Creatin Citrat, Creatin Pyruvat, Kre-Alkalyn® (gepuffertes Creatin Monohydrat), L-Carnitin L-Tartrat, L-Ornithin HCl, Calcium Alpha-Ketoglutarat, Alpha Liponsäure, Garcinia mangostana (Mangostane Fruchtschale) 10:1 Extrakt, Trifolium pratense (Rotklee Blätter und Blüten) 30:1 Extrakt, Bioperine® (Pfefferfrucht 50:1 Extrakt), Cholecalciferol.
Customer reviews
Unfortunately there are no review yet. Be the first who rate this product.
You must be logged in to submit a review. Login